WHN Science Communications
My Village Corona-Free: India's Success Through the "Mera Gaon Corona Mukt" Campaign
What happens when communities compete to achieve elimination? According to data from the most populous state of India, Uttar Pradesh (UP), competition works. The number of cases there has just fallen below 20 cases per day in the past week among a population of 220 million. With less than nine new cases reported on 10 September 2021, UP may be close to eliminating COVID-19. Other states of northern India have also achieved dramatic improvements, including in Delhi, where there are now only 40 cases per day. The success of this approach has led to the adoption of similar policies in Mumbai in the state of Maharashtra, which has recently reduced cases to 4,000 per day after being stuck at about 8,000 cases when it partially reopened after a lockdown, thereby stopping the outbreak that peaked in April.
Introduction
With Maharashtra's recent implementation of the Mera Gaon Corona Mukt ("My Village Corona-Free") campaign, the focus of attention has shifted to how India's largest state, Uttar Pradesh (UP) has been able to control COVID-19 [1]. Their success rides on proactive measures including an aggressive 'Trace, Test, and Treat' policy, vaccination drives, and curfews, which continue today (albeit partially). The test positivity rate has been brought down to much lower than 0.01%. Even though the testing has dropped from a peak of around 350,000 per day during June 2021 (with RT-PCR tests contributing to about 50% of all tests) UP continues to test substantial numbers, with around 200,000 samples being tested a day at the end of August 2021 [2]. On 10 September, UP tested 226,000 samples. The case fatality ratio (CFR) at 1.34 is comparable to most parts of India and the world. The United States has a CFR of 1.6 while the United Kingdom has a CFR of 1.9 [3].
Giving a major boost to Uttar Pradesh in the battle against the novel coronavirus, as of 10 September, 33 districts (out of a total of 75) have not reported any active COVID-19 cases, while 67 districts have not reported any new cases [2]. A key driver of the implementation of these policies is a monetary prize. In this competition, the top performing village receives a prize of 0.5 million Indian rupees (About $7,000) [1].
Background
Uttar Pradesh, the most populous state of India with an estimated population of 220 million, lies east of Delhi in the north-central part of the country. It is bordered by the state of Uttarakhand and the country of Nepal to the north, the state of Bihar to the east, the states of Jharkhand and Chhattisgarh to the southeast, the state of Madhya Pradesh to the south, and the states of Rajasthan and Haryana and the national capital territory of Delhi to the west. The GDP of the state in 2020-21 is 18 trillion Rupees (US$240 billion). Maharashtra, the second largest Indian state by population and the largest Indian state by GDP, has accounted for 20% of reported COVID cases. It has an urban population of 51 million while Uttar Pradesh has 44 million (22.76% of Uttar Pradesh's population lives in urban areas). The rural settlements are compact villages in the west, groupings of hamlets in the east, and a mixture of the two in the central part. A traditional village in Uttar Pradesh is a cluster of mud huts with straw thatched roofs or clay tiles and few modern amenities. Villages near the cities, however, are likely to have cement-plastered homes, paved roads, and electricity. Agriculture is the mainstay of the state's economy. Most urban inhabitants live in cities with populations of more than 100,000. The state has 7 cities with populations exceeding 1 million each. Among the largest cities are Kanpur, Lucknow, Agra, Varanasi, Meerut, and Prayagraj. The state has two international airports at Lucknow (the capital city of the state) and Varanasi.
Pandemic
The first peak of the COVID-19 pandemic reached a reported 97,859 new cases on 16 September 2020, as the state and federal governments took action to stop the outbreak. From there new cases declined till mid-February demonstrating a success in controlling the pandemic that was not widely appreciated, many claiming that herd immunity was responsible [4]. Unfortunately, the proof that herd immunity was not responsible followed as premature relaxation of restrictions led to rapidly increasing cases made worse by the appearance of the more highly contagious Delta variant. Despite clear indications by some (including authors of this article), a reluctance to anticipate the dynamics of the pandemic by most, pre-empted any early action by India's policymakers to control the pandemic—leading to loss of precious lives during the second wave [5]. As has been demonstrated in many parts of the world, delays in response as cases increase leads to a huge cost—much higher numbers of cases and many more deaths both due to the exponential growth and overwhelmed healthcare capacity. Partial lockdowns tried in many places were insufficient for stopping the outbreak, and there was tremendous loss of life. When strong action was finally taken, the second peak of recorded cases was recorded with over 392,000 cases per day in May 2021. From there the numbers declined rapidly. This time, many states persisted in a goal of elimination. Uttar Pradesh has achieved significant milestones in reduced cases.
UP Success Story
So, what did UP do? The Uttar Pradesh state Government realised the importance of focusing on rural populations to control the second wave of the COVID-19 pandemic. Like other states of Northeast India, UP had been largely unaffected by the first wave, as the pandemic did not penetrate into the villages. This gave birth to the "Mera Gaon Corona Mukt (My Village, Corona-Free)" campaign [6]. Riding largely on the back of this campaign, the state appears to have been able to control the pandemic. However, the campaign was preceded by other clearly articulated actions initiated by the Government. Some of these actions were:
Lockdown and Restrictions: On 20 April 2021, Uttar Pradesh decided to go into a lockdown with a complete shutdown on Saturdays and Sundays and a previously imposed night curfew on weekdays [6]. The decision came on a day when Uttar Pradesh reported 28,211 new COVID-19 cases and 167 deaths. On 11 August, with a reduction in cases to only 40 cases per day by early August (less than 2 cases per 10 million), Uttar Pradesh Chief Minister Yogi Adityanath asked his officials to consider partial relaxation of the two-day weekly closure of shops and business establishments [7]. However, the Chief Minister stressed that the COVID protocols should be followed everywhere and there should not be any unnecessary congregations of people anywhere. As a preliminary change, on 11 August the Uttar Pradesh government announced that movement of people will be allowed from 6 AM till 10 PM from Mondays to Saturdays with effect from 14 August onwards. The state government said that people will mandatorily need to wear masks, observe social distancing, and use sanitizer. On the other hand, the Sunday lockdown and curfew were extended.
Restrictions on travel: By the end of April, The UP government-imposed restrictions on travel from other states. Essential service personnel were allowed to move freely after obtaining an e-pass [6]. The UP government implemented e-passes for both intra-district and inter-district travel. The state government classified people working in industries engaged in medical supplies, e-commerce operations, medical emergencies, as well as print and electronic media as essential service personnel. The Uttar Pradesh government extended these restrictions till 15 August by making it mandatory for travelers from states with a positivity rate of more than 3% to produce a negative RT-PCR (COVID) report [8].
School Closure: The State Government ordered the closure of all educational institutions on 15 April and has only begun opening up in August and September [6], [9]. Online schooling has been available across India and continues in major parts of the country. UP schools reopened for classes 1 to 5 with strict COVID-19 protocols on 1 September 2021. Intermediate Schools were re-opened from 16 August at 50% capacity. Colleges and universities reopened on 1 September. Speaking to ANI, Anvita Verma Incharge of Lucknow city Montessori School's senior section said, "Our session started but due to lockdown, the schools were closed again [9]. For this, we are following the COVID protocols. At the entrance gate, there is thermal scanning. Sanitizers have been put on every floor. Masks are compulsory for students and teachers and staff members as well. Social distance is being followed properly. In the sitting arrangement also, we are maintaining social distancing," she added. The Uttar Pradesh government issued a mandate to re-open schools in Uttar Pradesh with 50% attendance on 2 August. However, attendance has not been made compulsory [9].
Ensuring livelihood: UP Government started distribution of Free Rations to 147 million beneficiaries from 20May 2021. Initially the UP government planned to distribute 5 kg free ration to 35.9 million ration cardholders for the month of June and July 2021. Later, this was extended till November 2021. The idea was to help the migrants, poor, and under-privileged sections of the society during the pandemic. The government gave 3 kg of wheat and 2 kg of rice grain per month to each of the beneficiaries in the state through 80,000 ration distribution shops. Manish Chauhan, commissioner, food and civil supplies department of Uttar Pradesh state, said, "For this, it is estimated more than 7.5 lakh metric tons of food grains is required by the department. We have enough rations for all the beneficiaries under the schemes [10]."
Mukhyamantri Bal Seva Yojana 2021: All children whose parents have died due to coronavirus infection are being taken care of through this program. This was started on 30 May 2021 by the Chief Minister of Uttar Pradesh, Yogi Adityanath. It provides not only financial assistance, but also the expenses ranging from education to marriage. Financial assistance of 4,000 Rupees is being provided to the child or guardian. If a child does not have a parent or guardian, the children are admitted into Government institutions with separate facilities for boys and girls [11].
Mera Gaon Corona Mukt (My Village Corona-Free) Campaign
India follows a local governance model called Panchayati Raj (PR). PR (Council of Five) is a system of local self-government of villages in rural India as opposed to urban and suburban municipalities. It consists of the Panchayati Raj Institutions (PRIs) through which the self-government of villages is realized. They are tasked with "economic development, strengthening social justice and implementation of Central and State Government Schemes including those 29 subjects listed in the Eleventh Schedule." Part IX of the Indian Constitution is the section of the Constitution relating to the Panchayats. It stipulates that in states or Union Territories with more than two million inhabitants there are three levels of PRIs:
The Panchayat Raj is local self-government headed by locals (called Pradhan or Headman) including only local members. The smallest administrative unit of the state is called a "revenue village," so named as they were designed for revenue collection in the 1500s. The "mera gaon corona mukt gaon" campaign provided monetary incentive to the Panchayati Raj Institutions (PRIs) to carry out developmental works, in the form of an increase in budget allocated to carry out a particular development activity [12].
As part of the campaign, the state govt of UP launched a five-day campaign to screen its rural population for COVID-19 symptoms. The campaign mobilized existing frontline public health workers including Accredited Social Health Activists (ASHAs) numbering 150,000, and Auxiliary Nurse Midwives (ANMs). As part of this campaign, covering all the 97,409 revenue villages in the state, ASHAs and ANMs conducted a house-to-house survey in villages to screen villagers and distribute medical kits.

Named the 'COVID Samvedikaran Abhiyan' (COVID Sensitisation Campaign), the screening exercise conducted by ASHAs and ANMs, along with other district and health officials, was the cornerstone of "mera gaon corona mukt gaon" campaign. As part of the campaign, a team of two — two ASHA workers, or an ASHA worker and an ANM — were assigned an average 40-50 rural households a day. These frontline workers asked villagers for symptoms such as fever, cold, and cough.
They also counseled rural inhabitants and created awareness about precautionary measures that could control the spread of infection. The initial testing was largely carried out through rapid antigen testing (RAT). If the screening team encountered any seriously symptomatic case, the rapid action team consisting of health officials visited the household to get the patient tested and follow up on treatment. Continuing with the campaign, Chief Minister Yogi established direct communication (to ensure local participation), and has written to 58,189 Gram Pradhan's (Village Heads), urging them to take an active part in different campaigns and initiatives rolled out by his government to keep the villages free of COVID-19, amid fears of a third wave. In the letter dated 20 June 2021 and delivered by hand to all the village heads, the CM requested their involvement in the government's vaccination and mitigation programmes to help the government achieve the goal of "Mera Gaon-Corona Mukta Gaon." Underlining the importance of speeding up and intensifying targeted vaccination programs in the hinterland in anticipation of a third wave as has been predicted by experts, Adityanath said the focus should also be on keeping the public, especially children, safe from communicable diseases in the coming days. The CM requested participation of the Gram Pradhans in four campaigns related to COVID as well as other ongoing priorities. The first is to ensure cleanliness, hygiene, and fogging in villages to prevent communicable diseases such as Japanese Encephalitis or AES and also to raise public awareness on clean drinking water. The second is to dispel myths, misinformation, and lingering doubts around COVID vaccines and ensure that every adult person is vaccinated. Third, the CM requested Village Heads ensure that medical kits designed for children with COVID symptoms are distributed timely and effectively through monitoring committees from 27 June 2021. Finally, the CM has asked the Pradhans to get actively involved in the plantation drive of the state government and ensure adequate planting on vacant land in their respective villages.
Other campaigns in view of third wave impacting children: UNICEF Uttar Pradesh, in partnership with the government departments, is actively engaging with children—a key vulnerable population—and disseminating COVID prevention messaging through a unique 10-episode puppet series named "Tara Hai Tayyar" meaning "Tara is Ready [13]." The series' main protagonist is Tara, a seven-year-old who lives with her Appa (father). Together they face the challenges presented by COVID-19 with fortitude, intelligence, and kindness, using presence of mind at all times. This family, undergoing the perils of current lockdown, presents many imitable acts. UNICEF tapped into diverse platforms including the Education Department. In addition to the Education Department, children and youth forums and platforms such as National Service Scheme (NSS) and Bharat Scouts and Guides were accessed to widen the reach among the younger population. Furthermore, the deep penetration of community radio stations, UP State Rural Livelihoods Mission (UPSRLM), National Health Mission, Department of Women and Child Welfare programmes, and grassroots organizations amplified the series. Five episodes of the series were tweeted by the Hon'ble Union Health Minister of India. Doordarshan Uttar Pradesh and a private television network have broadcast the series in different formats. The collective reach of the series in Uttar Pradesh through Doordarshan and Zee TV networks has been around 650,000.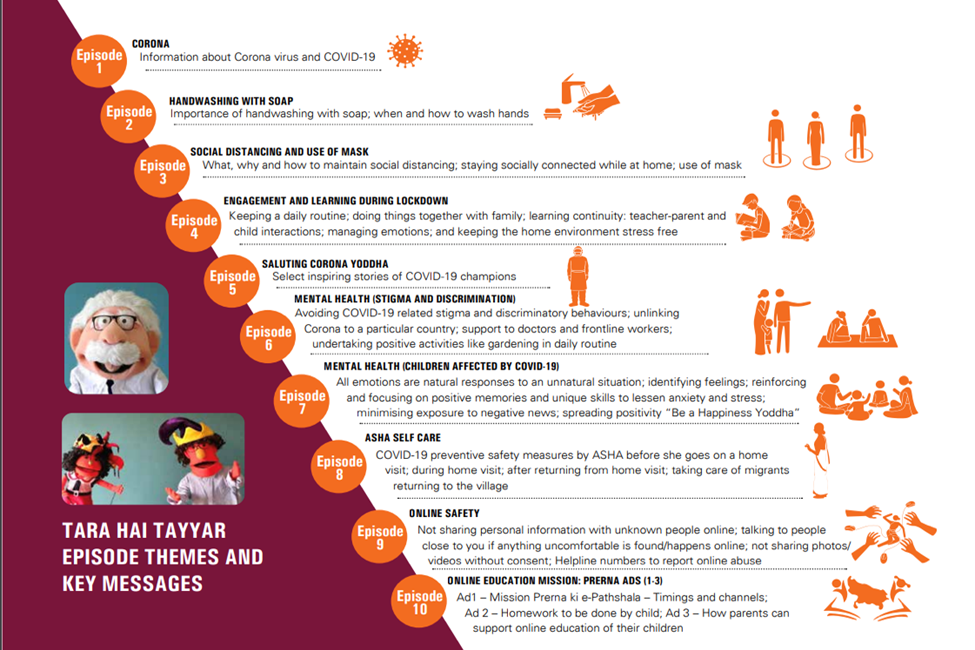 Conclusions
Uttar Pradesh used a multipronged and intentional prevention campaign to achieve near elimination conditions. The combination included lockdown measures, travel restrictions, school closures, comprehensive food support, child oriented public communication campaign, as well as an incentivized village competition for elimination. These measures were consistent with a clearly articulated message on eliminating COVID-19 from the top leadership of the state, which may have been the biggest reason for the success that Uttar Pradesh saw in reducing its caseload to an elimination level.
[1] Maharashtra announces 'corona-free village' contest [Internet]. Gaonconnection | Your Connection with Rural India. Available from: https://en.gaonconnection.com/maharashtra-corona-free-village-contest-second-wave-covid-deaths/ (2021)
[2] Government of India. #IndiaFightsCorona COVID-19 in India, Vaccination, Dashboard , Corona Virus Tracker [Internet]. Available from: https://www.mygov.in/covid-19/ (2021)
[3] Mortality Analyses [Internet]. Johns Hopkins Coronavirus Resource Center. Available from: https://coronavirus.jhu.edu/data/mortality (2021)
[4] Raina SK, Bar-Yam Y. Was India saved by staying below the critical travel threshold and was lockdown and travel restriction the most important public health intervention? arXiv:210212405 [physics] [Internet]. Feb 24. Available from: http://arxiv.org/abs/2102.12405 (2021)
[5] Raina SK, Bar-Yam Y. What India needs to do to eliminate Covid—A case for a sub-national Zero Covid Strategy, New England Complex Systems Institute [Internet]. Mar 17. Available from: https://necsi.edu/what-india-needs-to-do-to-eliminate-covid (2021)
[6] UP To Go Into Covid Lockdown On Weekends, Night Curfew Continues [Internet]. NDTV.com. Available from: https://www.ndtv.com/india-news/covid-up-to-go-into-lockdown-on-weekends-night-curfew-continues-2417823 (2021)
[7] UP CM asks officials to consider partial relaxation in two-day weekly closure of shops, markets. The Economic Times [Internet]. Available from: https://economictimes.indiatimes.com/news/india/up-cm-asks-officials-to-consider-partial-relaxation-in-two-day-weekly-closure-of-shops-markets/articleshow/85238231.cms (2021)
[8] Highlights India situation covid-19 [Internet]. The Hindu Centre. Available from: https://www.thehinducentre.com/resources/article35070066.ece/binary/India-Situation-Report_1-74.pdf (2021)
[9] Schools for classes 9-12 re-open in Uttar Pradesh from today [Internet]. ANI News. Available from: https://www.aninews.in/news/national/general-news/schools-for-classes-9-12-re-open-in-uttar-pradesh-from-today20210816093136/ (2021)
[10] Free ration distribution to begin in UP from Thursday. The Economic Times [Internet]. Available from: https://economictimes.indiatimes.com/news/india/free-ration-distribution-to-begin-in-up-from-thursday/articleshow/82771055.cms (2021)
[11] Mukhyamantri Bal Seva Yojana UP 2021 Apply Online, Eligibility » nscsindia.org [Internet]. Available from: https://www.nscsindia.org/mukhyamantri-bal-seva-yojana-2021-apply-online-eligibility/ (2021)
[12] UP govt announces reward for making villages, wards Covid-free with new campaign [Internet]. Hindustan Times. Available from: https://www.hindustantimes.com/india-news/up-govt-announces-reward-for-making-villages-wards-covid-free-with-new-campaign-101621657059808.html (2021)
[13] UNICEF India. तारा है तैयार एपिसोड स्टिगमा एवं भेदभाव [Internet]. Available from: https://www.youtube.com/watch?v=O0mpYUrGd_4 (2021)