Worms in Spaghetti – Fact Checking Media and Government News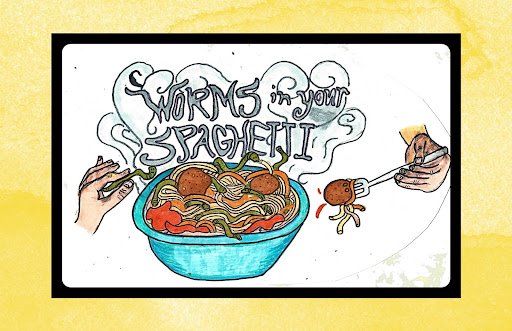 WHO Continues to Ignore Long COVID Catastrophe
by Shea O'Neil – 11/16/2022
Verified by the World Health Network – Covid Action Group [Expert Advisory Group]
How to Pull Out the Worms and Focus on the Spaghetti and Meatballs When Reading the News
Misinformation is often intertwined with facts that are either intentionally or unintentionally placed as a way to propagate a narrative at the expense of responsible scientific messaging. We call this misinformation "Worms in your Spaghetti." It is the purpose of this column to pull out these "worms" and create a public focus on the "spaghetti and meatballs" of good information, as is laid out in a new scientific consensus on "A multinational Delphi consensus to end the COVID-19 public health threat." [1]
The Dish
A recently published scientific consensus statement [1] of more than 300 experts calls for multilayered COVID prevention approaches in order to end COVID-19 as a global threat, along with laying out initiatives for government agencies and global organizations to take in order to communicate and implement these approaches strategically.
However, the news that has dominated the headlines recently is the WHO's report [2] of a 90% drop in death rate attributed to COVID-19, and a call for optimism – a headline that has been used by ABC, CBS, WebMD News Brief, among others.

The Worms
The WHO, and the news releases above, continue to irresponsibly ignore the two main threats posed by Omicron variants:
Their increased transmissibility
Their ability to cause significant long-term health problems in the general population [7] (long COVID)
Instead, they focus on the death rate from known COVID-19 infections during the acute disease phase, which is not an appropriate metric for evaluating the threat of Omicron variants for three reasons:
Many deaths are not accounted for in the death rate metric because they happen after the acute phase of illness due to COVID-related organ damage.[3][4]
The WHO itself has admitted that the death rate is currently undercounted and is an unreliable metric. [5]
The severe long-term outcomes from COVID-19 infection (the main threats posed by current variants) are not measured by the death rate metric, nor are they being addressed by any actions, initiatives, or even mentioned during the WHO's news release.
These red flags insinuate that propaganda narratives are at play, including downplaying the known long-term risks of COVID-19 infections, and promoting concepts of return to normalcy, both of which are counter-productive to the measures recommended by the scientific consensus, and its emphasis that COVID-19 does pose a serious risk globally.[1]

The Spaghetti
"A multinational Delphi consensus to end the COVID-19 public health threat"[1]
Published in Nature on 03 November 2022
A diverse, multidisciplinary panel of 386 academic, health, non-governmental organization, government and other experts in COVID-19 response from 112 countries and territories made recommendations of specific actions to end the persistent COVID-19 threat to public health, which have been further endorsed by 184 organizations globally. The highest-ranked recommendations call for the adoption of:
Whole-of-society and whole-of-government approaches.
Maintaining proven prevention measures using a vaccine-plus approach.

The Meatballs
Quotes from the Scientific Consensus [1]
Whole-of-Society and Whole-of-Government Approaches
A government's decision to reduce COVID-19 pandemic control measures does not mean that the threat to public health has ended.
There continues to be systematic risks of COVID-19 infection for healthcare workers in many healthcare settings.
The COVID-19 pandemic disproportionately impacts the most vulnerable populations within communities, countries, and globally.
Public health policy should take better account of the potential long-term impact of the unchecked spread of COVID-19.
Relying on individual, voluntary compliance with transmission prevention is insufficient to end COVID-19 as a public health threat.
Prioritizing the treatment of severe COVID-19 over the prevention of SARS-CoV-2 infection risks increasing infections, long COVID, and overall burden of disease.
Sources of false information undermine the social cohesion needed for an effective public health response. Maintaining Proven Prevention Measures Using a Vaccines-Plus Approach
Vaccination alone is insufficient to end the COVID-19 pandemic as a public health threat.
The assumption that endemicity automatically means that variants will have low virulence is not scientifically sound and should not be a basis for public policy decision-making.
Governments should now prioritize early case detection so that the health systems can facilitate earlier treatment and care.
Governments should reduce economic barriers to SARS-CoV-2 tests, personal protective equipment, treatment and care.
In settings in which access to PCR or antigen tests may be limited, providers should consider adopting a syndromic approach to COVID-19 diagnosis for symptomatic individuals.
Wide use of high filtration and well-fitting facemasks (for example, N95, KF94, KN95, FFP2/3) is important to reduce transmission.
Prevention of SARS-CoV-2 transmission in the workplace, educational institutions and centers of commerce should remain a high priority, reflected in public health guidance and supported through multiple social measures and structural interventions:
Remote work/schooling policies
Ventilation
Air filtration
Facemask wearing
Financial incentives (support measures)

The Cannoli
By focusing on the death rate metric instead of focusing on the high personal and societal consequences of long COVID, the WHO (and aforementioned news sources) are ignoring their responsibilities to present relevant and accurate information to the public. They waste the opportunity to act as a megaphone to inform the public of risks, and to relay a call for action by both the government and the public that would end COVID-19 as a global threat. [1]
Instead, they call for ill-warranted optimism based on an unreliable and inappropriate metric that not only dissuades action, but also ignores the personal hardships of the many individuals and families from around the world suffering from the short-term and long-term effects of COVID-19.
As we await organizational action, the public needs to be aware that the scientific consensus recommends we follow the multilayered approach outlined above, and continue to regard COVID-19 as a persistent public threat [1], as it is we, the public, that will be paying for the consequences most dearly. Remember, inaction is an action of its own.

Sources:
1 Lazarus, J.V., Romero, D., Kopka, C.J. et al. A multinational Delphi consensus to end the COVID-19 public health threat. Nature 611, 332–345 (2022). https://doi.org/10.1038/s41586-022-05398-2
2 WHO Director-General's opening remarks at the media briefing – 9 November 2022 https://www.who.int/director-general/speeches/detail/who-director-general-s-opening-remarks-at-the-media-briefing—9-november-2022
3 Al-Aly, Z., Bowe, B. & Xie, Y. Long COVID after breakthrough SARS-CoV-2 infection. Nat Med 28, 1461–1467 (2022). https://doi.org/10.1038/s41591-022-01840-0
4 Bowe, B., Xie, Y. & Al-Aly, Z. Acute and postacute sequelae associated with SARS-CoV-2 reinfection. Nat Med (2022). https://doi.org/10.1038/s41591-022-02051-3
5 Van Noordan, Richard. COVID death tolls: scientists acknowledge errors in WHO estimates. Nature. June 2022. https://www.nature.com/articles/d41586-022-01526-0
6 Lazarus, J.V., Kamarulzaman, A., Binagwaho, A. "How the world can end Covid-19 as a public health threat". STAT NEWS. 3 November 2022. https://www.statnews.com/2022/11/03/how-the-world-can-end-covid-19-as-a-public-health-threat/
7 Long Covid Learning. "What are we learning about Long COVID? Should the risk of chronic illness change what precautions we take?". 11 November 2022. https://www.longcovidlearning.org/
Last reviewed on February 23, 2023