Stronger Mitigation Measures Needed as Cases Continue to Rise
Staff Shortages due to COVID-19 Cause Ambulance and Patient Intake Delays in Overwhelmed UK Hospitals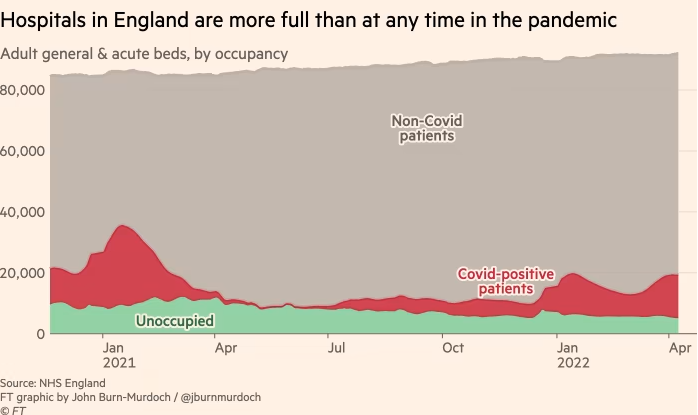 On 12 April, UK hospitals reported 20,032 COVID-19 patients, of whom 378 required mechanical ventilation. In England, nearly 1,800 patients were admitted for in-hospital treatment, while nearly 200,000 medical personnel were absent due to COVID-19 illness in a single week. National Health Service (NHS) Confederation has reprimanded the authorities for relaxing their approach to the pandemic and demanded a change in the current plan to live with the virus. A letter by NHS to local leaders described a 90% increase in COVID-19 patients seeking hospital treatment in areas of the UK. The growing number of cases exceeds hospital capacity, forcing health personnel to advise family members to take home COVID-19 positive relatives due to lack of available beds. The letter cites significant ambulance delays, and delays in measures to protect cancer patients in need of treatment. The pressure on hospitals, lack of responsiveness from the government, understaffing, and burnout, are described as "brutal".

1-SIGN! Our petition to fight the overturning of the TSA mask mandate and to support masking on public transportation and on all flights!

2-SIGN! This appeal for universal masking to CDC director Walensky led by MaskTogetherAmerica.org's Julie Lam. This letter addresses the risks of the most vulnerable, who face increased risk in the absence of universal masking.
Guidance
Guidelines and resources for COVID-19 mitigation– (WHN + CAG)Meet virtually or in person with others safely via COVID Meetups! — (WHN + CAG)
Resources
Nearly two thirds of Americans support mask mandates on public transport, poll finds (The Hill)(similar data here, YouGov America)

Justice Department to appeal order voiding travel mask mandate (The Associated Press)

UK NHS Chief Executives urges for a return of mask mandates as cases surge (The Times)

Omicron reinfection identified by genetic sequencing 3 weeks after original infection (ESCMID)

Two new, more contagious BA.2 subvariants (BA.2.12 and BA2.12.1) are rapidly taking over, NY health authorities alert (PIX11). BA.2.12 is already growing exponentially (Twitter)

Vaccination does not reduce risk for developing Long COVID (Brain, Behavior, and Immunity)

40% of Covid-19 survivors have Long Covid symptoms in a large UK cohort at 3 months (Nature)

25% of children and adolescents of Covid-19 survivors have Long COVID (Meta-analysis preprint)

Booster efficacy against symptomatic COVID-19 (Omicron) drops from 60-75% steeply to almost no effect (20-40%) at 20 weeks after boosting (UK HSA)
In Community,
-The WHN