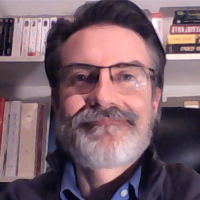 Stephane Bilodeau
Engineer
Stephane Bilodeau is an academic and an entrepreneur in Cleantech, Engineer, Ph.D. in Energy, Thermofluids, and Advanced Thermodynamics with a Master degree in Applied Sciences. He is the Founder and Chief Technology Officer, of Smart Phases Inc. (Novacab.ca), a Fellow of Engineers Canada, an Adjunct Professor at McGill University, and an independent expert contributor to a UN Agency, to Energy Central, #TowardsDataScience, and #TheStartup in Medium.
A frontrunner, his main objectives are related to the deployment of renewables, energy storage, indoor air quality, biofluids, and clean technologies. Integrating solutions with IoT & Artificial Intelligence and Health & Safety as well as the development of the engineering profession in a sustainable way. Engineering is part of the solution to Climate Change Challenges.
He has taught in Engineering faculties for more than 2 decades, for 20+ years at the Mechanical Engineering Department of the Université de Sherbrooke, and now at the Bioengineering Department of McGill University. As a Lecturer, Adjunct Professor and/or Associate Professor, Dr. Bilodeau has been in charge of different energy and fluid-related courses. His publications appeared in ASHRAE Journal (American Society of Heating, Refrigerating and Air-Conditioning Engineers), International Journal of Heat and Mass Transfer (Pergamon Press), lEA Proceedings (International Energy Agency), SAE Proceedings (Society of Automotive Engineers), and MDPI
In the last 20 years, he has founded and led 2 Cleantech Companies. Recognized specialist and leader in advanced thermodynamics, Indoor Air Quality, Energy, and Ventilation, he supervises a team developing energy management systems exploiting energy recycling and thermal storage through phase change materials. Some of these technologies have won different awards and prices (notably the ASHRAE Industrial Technology Award 2007, the IBM Innovation that Matters 2006 Contest, AQME Energia 2006 Award, etc.) Author of many patents, he has worked extensively in Energy Efficiency, Advanced Thermodynamics, and Sustainable Development matters, teaming on innovation, notably in energy storage, renewables, artificial intelligence, and health.
He is an active member of Engineers Associations in Canada since more than 16 years. Notably, Member of the Board at the OIQ (Ordre des ingenieurs du Quebec) from 2006 to 2015, he has been involved actively in different standing committees and work groups, and notably as Vice-President from 2009 to 2014 and President in 2014. Member of the Board of Engineers Canada from 2013 to 2016, he is currently Chair of the Public Affairs Advisory Committee where he served since 2014. He has respectively received a Fellow of Engineers Canada (FEC) and from the OIQ for its "Exceptional Contributions to the Engineering Profession in Canada" in 2015 and the President Award for his "Exemplary Involvement" from the "Fondation de l'Ordre des ingenieurs du Quebec" (FOIQ.qc.ca) in 2018. He is one of the founding members of FOIQ, where he is currently serving as board member and Chairman of the Awards Committee; he previously chaired the Scholarships Committee for more than 7 years.
He also has an Editorial role at the World Health Network and an active role in other groups such as the Canadian Aerosol Transmission Coalition. He is also a TEDx organizer and speaker having contributed to the organization of many conferences on Entrepreneurship, Resilience, Climate Action, Energy Transition, Mental and Global Health, Diversity, Youth, and Women Leadership in the context of Sustainable Development Goals.