Beginning to Grasp the Burden of Long Covid and it's Impact on the Lives of Millions
Vaccinations Offer Little Protection Against Long COVID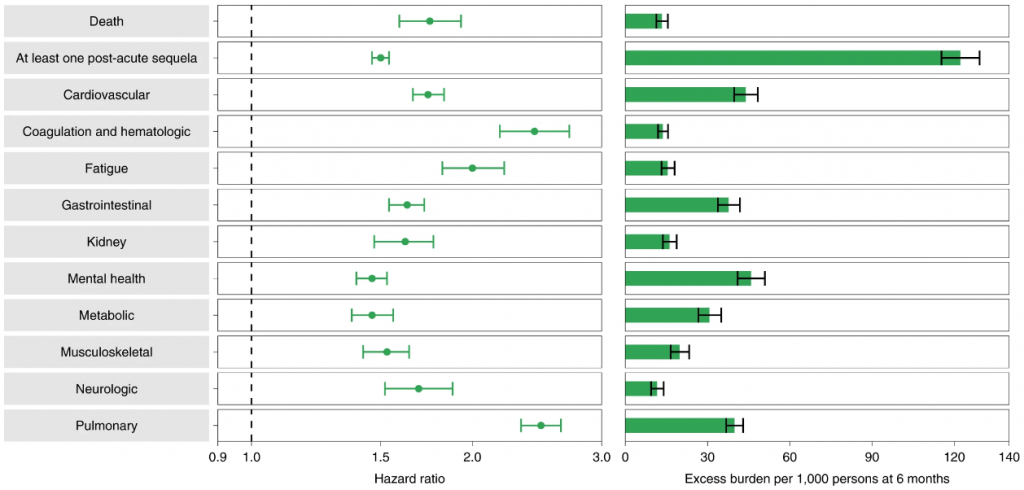 Long COVID refers to many disabling symptoms, including extreme fatigue, loss of cognitive function, neurological and vascular abnormalities, and more, following SARS-CoV-2 infection. Asymptomatic or mild COVID-19 cases can result in Long COVID, but many hoped that vaccines would provide protection. However, a new large study published in Nature shows those having breakthrough infections (infection despite vaccination) had a higher risk of death (1.3% deaths at 6 months), Long COVID (12% at 6 months), and organ damage. While vaccinated individuals had a lower likelihood of Long COVID than unvaccinated, the difference is only 15%. Vaccines, although somewhat protective, are not sufficient to prevent Long COVID and should be used with other measures to prevent infection.
CHECK IT OUT! Our partners at COVID safe campus have prepared a toolkit for safe practices during graduation and on-campus activities

CHECK IT OUT! JOIN our efforts to learn and spread knowledge about Long COVID.

CHECK IT OUT! Learn about monkeypox and how to protect yourself and your community on our new resource.
RESOURCES
Monkeypox cases continue to rise in the US and around the world, prompting measures to curb transmission. Learn about the disease, transmission, and protections here. (UMN Center for Infectious Disease Research and Policy, CNBC, WHN)
The US reports over 100 000 new COVID cases in a single day, the highest number since February, 2022 (BNN/Medriva)
1 in 5 adults experience at least one new condition after infection with SARS-CoV-2 (CDC MMWR)
Fauci warns that mandatory mask wearing is due amidst surging infections (CNN)
Boston suburb reinstates masks in all town-owned buildings in response to rising COVID-19 cases (Public schools of Brookline)
Multiple universities across the US reinstate mask mandates (CNBC)
High community levels of COVID-19 prompt CDC to recommend masks in 36 New York counties (Spectrum news 1)
SARS-CoV-2 mimics liver protein, triggering T-cell autoimmunity (Preprint)
Pfizer vaccine given in three doses shows promise in younger children (The Washington Post, Pfizer)
Infection with the Omicron variant does not offer immunity against other variants in unvaccinated people (Nature)
Those with rebounding COVID-19 after PAXLOVID likely highly infectious (MSN)