Stopping the Pandemic Requires All Hands on Deck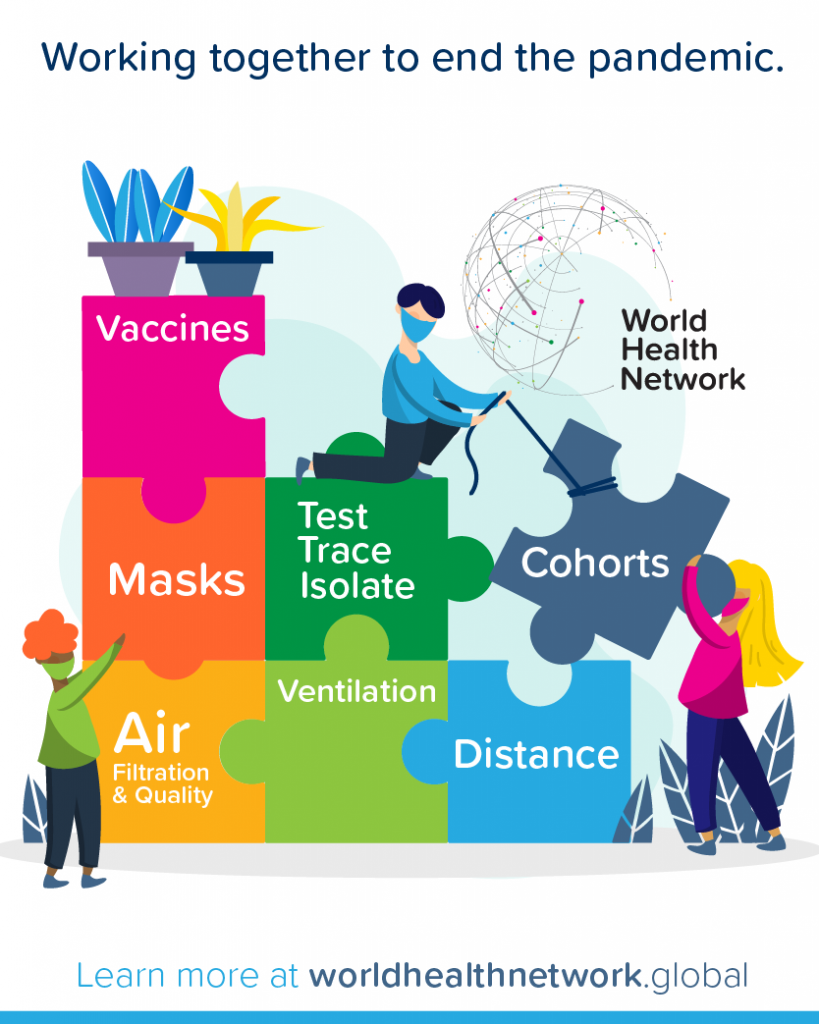 As the science of COVID-19 advances, mounting evidence suggests that repeat infections cause damage to our immune systems, without contributing much protection against future variants and subvariants, of Omicron. Instead, repeat infections increase the risk of serious harm to multiple organ systems and impaired long-term health (including both ongoing symptoms and acute events associated with long COVID), and threaten the future of our workforce, economies, lifestyle, and the welfare of our communities. Controlling the pandemic is, however, within our reach, if we commit to a coordinated, united effort to implement universal mitigations. Ventilation, air filtration, masking, vaccination, mass testing, and prompt isolation are required to gain an upper hand on COVID-19 and, in doing so, to secure the health and safety of our children and our future.
🚨ANNOUNCEMENT! THE WHN DECLARES MONKEYPOX A PUBLIC HEALTH EMERGENCY OF INTERNATIONAL CONCERN

CHECK IT OUT! JOIN our efforts to learn and spread knowledge about Long COVID.

CHECK IT OUT! Our guidelines keep expanding so check to see what is new.

CHECK IT OUT! Learn about monkeypox and how to protect yourself and your community on our updated resource.
RESOURCES

COVID-19:
Children 6 months-5 years of age can now be vaccinated against COVID-19 (The Washington Post)
UK reports rise in hospitalizations as cases continue to surge (Gov.uk)
Israel sees largest increase since April with 10 000 new cases in a day, reopening COVID wards under consideration (The Times of Israel)
India experiences the highest number of new cases in over 3 months (The Times of India)
Persistent circulating SARS-CoV-2 spike is associated with post-acute COVID-19 sequelae (Preprint)
Evidence of recent Epstein-Barr virus reactivation in individuals experiencing Long COVID (Preprint)
Cytotoxic aggregates of SARS-CoV-2 proteins implicated in COVID-19 neurological sequelae (NatureCommunications)
Immune boosting by Omicron depends on previous SARS-CoV-2 exposure (Science)

MONKEYPOX:
WHO convenes an Emergency Committee to discuss monkeypox as cases surpass 3000 worldwide (WHO, Reuters)
Monkeypox transmission mid-flight: no time to do away with protections (Euroweekly News)
US to expand monkeypox testing (Bloomberg)
New York City opens monkeypox vaccination clinics, Manhattan Borough President asks CDC for more doses urgently (NYC Health; Twitter)