How to Prepare for the Fall: COVID Safety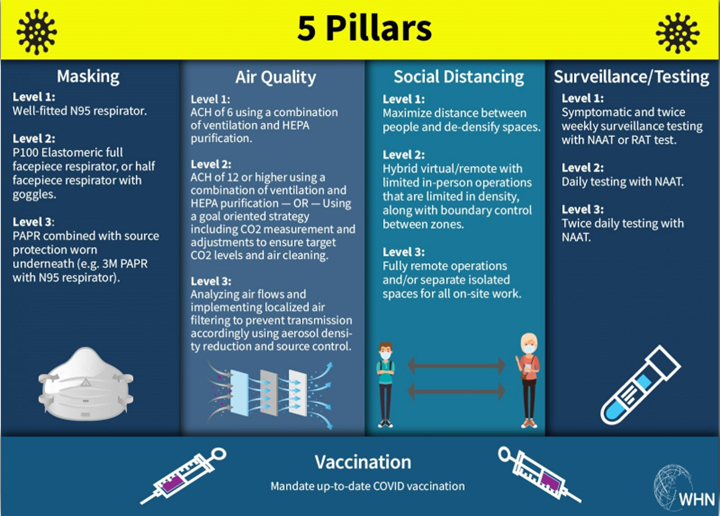 Contrary to president Biden's impromptu announcement, which WHN will address separately, the COVID-19 pandemic still poses a serious risk to our collective short- and long-term health.
• Who can get infected? The current widespread variants can infect anyone, including those who are vaccinated and/or have previously been infected with SARS-CoV-2. While vaccination can lower the risk of severe illness and death, vaccines do not provide perfect protection. Natural or vaccine-derived immunity against SARS-CoV-2 is not protective against ongoing and future variants, and wanes over time. The virus can also negatively impact the immune system, making it less effective at fighting future infections. Finally, Long COVID – a potentially debilitating chronic condition which can leave those afflicted with serious long-term disability, affects young and old, vaccinated and unvaccinated. Thus, while vaccines can protect against serious acute illness, multi-layered mitigation is necessary. This includes social distancing, masking, air filtration, testing (and staying home when sick) and getting vaccinated. Our Five Pillars of Protection offer a layered, comprehensive guide to COVID-19 mitigation. For information about the pillars of protection, see image above.
• If infected or if you suspect an infection: Stay at home and isolate. Seek testing immediately. If infected, let your close contacts know. Get medical advice. Remain in isolation for at least 10 days and have 2 negative tests (Rapid Antigen or PCR) taken at least 24 hours apart.
• Should I get the COVID-19 bivalent booster? If you are eligible, schedule your COVID-19 bivalent (½ original COVID strain, ½ BA.4 and BA.5) booster shot, which is expected to offer better protection against Omicron and later variants. Who is eligible to receive the bivalent booster? You must have completed the primary series of COVID-19 vaccinations (2 shots) to receive a booster. You can receive the bivalent booster regardless of whether you have received any of the previously offered boosters. Two bivalent boosters are currently available: one by Moderna for persons at the age of 18 and older, and one by Pfizer for persons aged 12 and older. For children aged 5-11 years, boosting is still recommended if the primary vaccination series has been completed. However, children in this age group are only eligible for the original, monovalent vaccine until the updated boosters are approved for this age group.

LISTEN!📢 Watch/listen to WHN's Long COVID Symposium recording for discussions that examine the impact on patients, society, labor markets and productivity, and the future of our health.
RESOURCES
COVID-19
COVID-19 transmission observed from mother to fetus during pregnancy resulting in persistent viral reservoirs in infant intestines after birth (Nature Pediatric Research)
Long Covid is responsible for about a third of unfilled jobs in the US (Brookings; CNBC)
Long Covid costs Australia economy 3.6 billion a year (Bloomberg)
COVID-related disability removes at least 500,000 workers from the US workforce (NBER Working Paper Series)
Long Covid is a problem for US workforce (The Independent)
Monkeypox
Neurologic complications of smallpox and monkeypox: a review (JAMA)
Case of monkeypox in adult connected to Boston public schools (Boston Herald)
Mainland China reports first imported monkeypox case with low risk of transmission due to isolation in quarantine
upon arrival (Reuters)
Polio
Detection of polio derived from live poliovirus vaccines in environmental samples in the UK and in the US (WHO)
Detection of polio derived from live poliovirus vaccines in Jerusalem (Eurosurveillance)
Action to be taken on Polio, inactivated (not live) polio vaccine boosters are recommended for many. (Livescience)