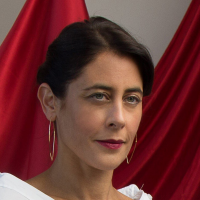 Simone George
Human Rights Lawyer
Simone George is a human rights lawyer and activist, a consultant commercial litigator, a paralysis cure hunter and a TED2018 Speaker.
Everything Simone does is based on her belief in fairness. As a human rights lawyer, she represents women who are experiencing abuse and is presently researching why those in our systems don't adequately serve justice. She co-authored the report "The Lawlessness of the Home" with an Irish NGO, finding that we are all responsible for women and children's right to bodily integrity and to liberty. She also co-created a summit in 2016 to cultivate the leadership required to arm us for this responsibility, gathering the world's foremost thinkers and activists together in Dublin. This work led to significant amendments to legislation and will contribute to a new landscape of social and political justice in Ireland.
Simone completed a diploma in Global Leadership and Public Policy for the 21st Century in Harvard, an experience she describes as "life changing", is a masters graduate from The College of Europe, Bruges, and a double-graduate of NUI Galway and alongside her human rights work she practices as a consultant commercial litigator.