Ensuring Equitable Access During Inequitable Times – Resources from the Vermont Center for Independent Living
The Vermont Center for Independent Living (VCIL) emphasizes the need for improved protection from COVID, especially of the most vulnerable, in a time when an ongoing pandemic is disregarded in many parts of society. The Americans with Disabilities Act (ADA) provides the legal framework that allows you to take action and request accommodations from employers, and in public education, transportation, social services, town meetings, voting, public health care, courts, healthcare offices (hospitals, dental and doctor offices, community mental health or designated agencies), private schools or daycares, private transit such as taxis or shuttles, grocery stores, retail stores, restaurants, hotels, movie theaters, gyms, and more.
ADA Training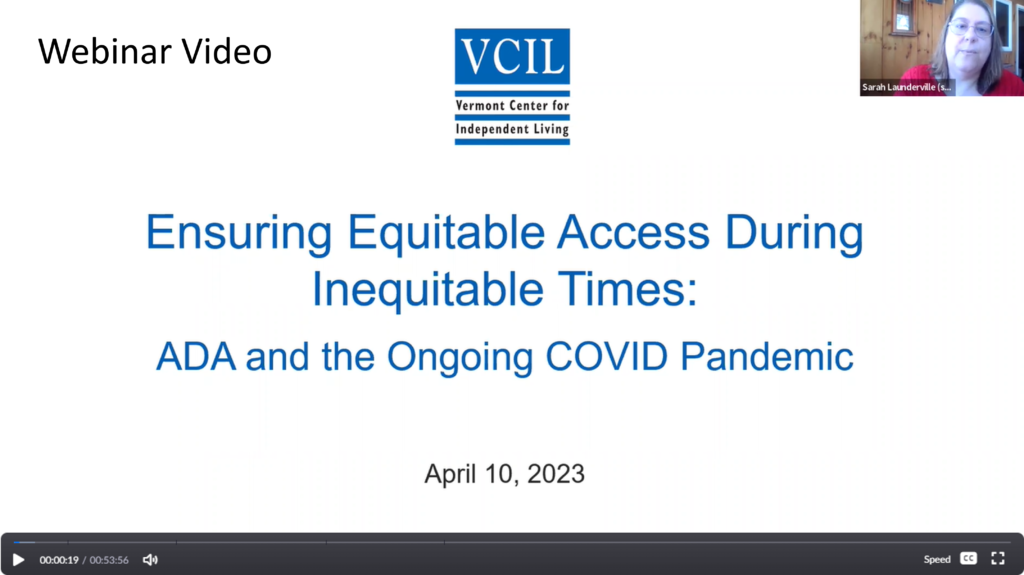 ---
ADA Handouts
ADA Title III Handout for Healthcare
ADA Title III Handout for Stores, Banks, Pharmacies, etc.
Media Coverage
Vermont Public Radio Interview – Masking in Healthcare
VT Digger Commentary – We've rebranded 'staggering levels of illness' as normalcy
Valley News – DHMC to Drop Mask Requirements
VT Digger – Vermont hospitals loosen masking restrictions
VCDR – Masks in Medical Care Press Release
Waterbury Roundabout – Disability rights group calls for more inclusive town meetings
VTCNG – Cambridge grants disability request at town meeting
Testimony to Vermont Legislature
Last reviewed on May 28, 2023